How it works
We collect, clean and deliver your clothes within 24-48 hrs.
1. Schedule a wash
Schedule an order before 3pm for same day pick up via the 1 Stop Wash web app. We pick up & deliver everyday with convenient time slots that suit your schedule.
2. Meet your driver
We collect your clothes from your doorstep. Our team will list your order and price it accordingly and we can provide you with your very own reusable laundry bag.
3. Fresh clothes
We bring your clothes/trainers back freshly cleaned within 24-48 hrs. Let us help you achieve Less Laundry, More Life!
Pricing and Services
We collect, clean and deliver your laundry and dry cleaning in 24-72 hrs
Everyday Laundry
Priced by the kilogram
Prices start from £15
Eco Dry Cleaning
Priced by the piece
Prices start from £3.50
Home & Bedding
Priced by the piece
Prices start from £2.50
Sneaker Cleaning
Priced by quotation
Prices start from £30
A Trusted Laundry and Dry Cleaning Company
Read what our customers say about 1 Stop Wash
Save with Our Subscriptions

1 STOP BAG
Wash & Fold,
Charged by the bag
One bag = one price, fill it up and get it washed! Includes FREE next day delivery & all perks from 1 Stop Go. Ideal for couples & families. Plans start from £25/month

1 STOP GO
Ongoing discount on ALL
services
10% OFF all services (apart from laundry) for just £3.99/month. This includes Eco Dry Cleaning, shirt service & bed linen service. Ideal for single busy professionals & couples.
Your Health & Safety Is Our Priority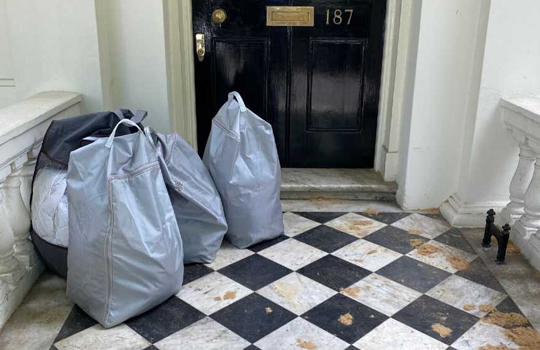 Contactless deliveries
For our customers safety, we enabled the feature to allow customers to conduct contactless pick up & deliveries.
Instant updates
We'll keep you posted throughout the process with texts/emails when driver is on their way and order has been cleaned.
Monitoring the situation
We're keeping up to date with all developments from government to ensure the safety of our customers and staff.
How do I schedule my first order?
You can place your order via website (scroll up), we have SMS orders & an app in development, you will be able to make orders through this too. More info will come out on this later.
Do you do contactless delivery?
You can enable contactless on your preferences, simply log in and select the preferences tab and there should be instructions from there.
How does 1 Stop Wash ensure top quality cleaning?
We're a very unique laundry & dry cleaning company due to the fact that we operate both in-store and online. We therefore have our own in-house plant where we carry out cleaning, this gives us the control to optimise systems and procedures to ensure top quality cleaning. This is unlike other online laundry & dry cleaning companies who simply just own the technology and farm the cleaning to other providers with little to no process system checks.
Quality Assurance
We have done thorough research and testing to make sure the quality and durability of our linen is like no other.

Flexible Deliveries
We are extremely flexible for deliveries to keep up with the demands of our laundry partners.
SIMPLE ROLLING CONTRACTS
We provide simple to read rolling contract's with no string's attached, service level agreements are included so there is no risk!

Eco-friendly
We apply eco friendliness and sustainability to all parts of our business!
Subscribe to our newsletter for updates, exclusive promotions and our latest content!