Ironing Service in London
1 Stop Wash offer a convenient ironing service in London with free pickup and delivery. We take special attention to detail to make sure your clothes are crisply pressed & ready to wear.
Ironing can take 3-5 minutes per piece, this can amount to a lot if you have the sole family responsibility to iron all your garments, why not spare this for yourself and do something you enjoy instead?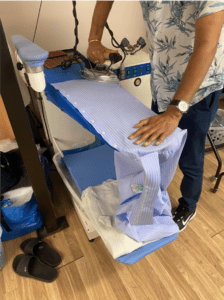 Ironing Service With Free Pick Up And Delivery
1 Stop Wash launderette offer a convenient ironing service in London with free collection and delivery. Our easy to use pressing service has saved our customers a lot of time as we crisply press their clothes, ready to use immediately.
1 Stop Wash have been offering a local ironing service for almost 10 years, our customers have loved the convenience so much that they have eventually switched to our washing and ironing service.
Our eco washing process coupled with our professional ironing service ensures longer lasting clothes and a laundry free life.
Worried about cost? Fear no longer as our premium ironing service comes at cheap prices to save you money and time – no need to hire a maid. Check out our ironing service prices.
We iron all sorts of items including shirts, suits, t shirts, trousers, dresses and more.
Whether your clothes need to be steam ironed or regularly pressed, we have you covered with our years of experience in handling different cloths.
Our service exists both in our shop as well as through your mobile where you can conveniently organise a free collection and delivery.
If you have any questions, just email us at info@1stopwash.com
Check out our other Laundry & Dry Cleaning Services:
Best Prices Guaranteed
We collect, clean and deliver your laundry and dry cleaning in 24-72 hrs
FAQ's for our Ironing Service
How long does your ironing service take?
Our ironing service takes up to 48 hrs to turnaround.
Why is the price of wash & press and iron only the same for shirts?
We use a state of the art shirt plant machine to carry out the ironing of shirts – this machine requires the shirts to be damp before putting them onto the machine. If shirts have been washed before they need ironing, they will most likely be dry by the time they need to be pressed therefore we would have to wash them again anyway.
Where do you iron my garments?
At our very own facility – we carry out all pressing whether machine pressed, hand finished or steam ironed on site – we don't outsource any pressing.
Are you insured against damage?
Yes, we insure up to 10x of the value of dry cleaning of the item.
What do I do before my first pick up?
Simply put your clothes to be dry cleaned in a separate bag, if you are using more than one service e.g ironing only or washed and ironed service, then separate the garments into separate bags depending on the service you'd like. Then just have your phone nearby and wait for our driver notification to let you know of his arrival for pick up.
What if I have special requirements?
You can add special notes to your order before pick up, alternatively, you can notify our driver of this and he will add it to the notes of your order.
A Trusted Laundry and Dry Cleaning Company
Read what our customers say about 1 Stop Wash