London's Eco-Friendly Dry Cleaners
Pick Up & Delivery Dry Cleaning Service Near You
From £2 Per Item
133 Google reviews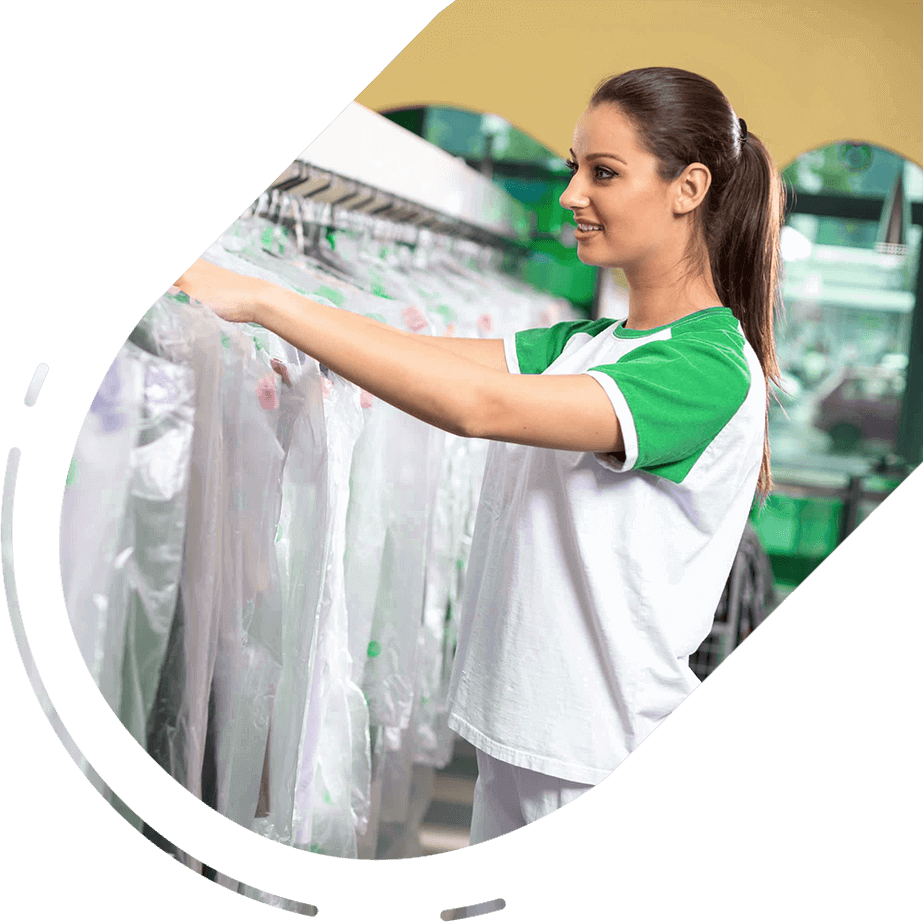 On-Demand Eco-Friendly Dry Cleaning Service
At 1 Stop Wash, we follow an eco-friendly dry cleaning process that leaves your clothes feeling rejuvenated. We dry clean all sorts of items including suits, dresses, wedding dresses, jackets, curtains, cushion covers, rugs and bedspreads.
When you opt for a dry cleaning service at 1 Stop Wash, you're doing your bit for the environment too.
How's that?
Well, for starters, our dry cleaning service is 100% eco-friendly. We use a naturally-sourced biodegradable cleaning solution that is kind both on your clothes and on the environment. We follow a process called wet cleaning, which uses on average 30% less water and 50% less energy compared to the traditional wash cycle followed by other dry cleaners.
Our automatic washers help control detergent dosage, drum rotation, water flow and temperature. They also automatically detect the moisture level in each garment, and continually optimise the wash cycle to create the best possible dry cleaning result possible.
1 Stop Wash does things differently. We really love clothes and we go beyond just dry cleaning clothes. We give them a new lease of life. Each garment we receive is different, and has to be handled differently. That's why our dry cleaning machines can be tuned according to the type of fabric. Our dry cleaning process is a lot like home laundry, but of a much higher quality.
For the past ten years, we at 1 Stop Wash have been perfecting the art and science of dry cleaning. We also offer free pickup and drop in and around London. Our eco-friendly dry cleaning will keep your clothes in shape for longer. That's our guarantee.
The Dry Cleaning Process
Dry-cleaning is a process that has changed over the years. But some of the most basic steps are as follows.
Reading the labels – Every garment comes with a label. One look at it reveals everything about the dry cleaning cycle needed.
Spotting – At this stage, we thoroughly inspect the clothes for damages and stains. We have several unique tools and solutions to clean all kinds of stains. Pockets are checked for pens, loose change and any left over items are packed and returned.
Into the machine – This is where the magic happens. The washers we use look like the ones you use at home, but with a difference. The ones we use can be infinitely customised according to the material, age and condition of the garments.
Drying – Of course, every dry cleaned garment has to be dried and then pressed. The colours come alive only once drained of all moisture.
Some of our dry cleaning service prices
With the unmatched convenience of our excellent dry cleaning services, 1 Stop Wash is your best bet when it comes to high-quality care for your clothes.
London's #1 Sustainable Dry Cleaning Service
Eco-Friendly Dry Cleaning Process
Our dry cleaning machinery uses up to 30% less water and 50% less energy compared to other dry cleaners machinery. The fabric detergent is made of a biodegradable base, and does not contain petroleum-derived chemicals (also called PERC).
Wet Cleaning That Rejuvenates Clothes
The star of our dry cleaning service is the wet cleaning process. A wet clean uses water and mild detergent instead of harmful chemicals. The wet washers we use can be customised according to the type of fabric and the instructions in the care label. Since wet-cleaning is natural, it leaves clothes feeling soft, fresh and renewed.
Expert Treatment Of Clothes
The very first thing we do is sort your garments according to care labels. Then when we start the dry cleaning process, we ensure that each garment is treated using the right combination of detergent, water temperature, drum rotations and spin cycles and stain removal chemicals if needed.
Greenest, Cleanest Dry Cleaners in London
Dry cleaning is an energy-hungry business. Hence, we have teamed up with Ecotricity, the largest provider of green energy in the United Kingdom who power our machinery to get you the best end result in dry cleaning.
State Of The Art Dry Cleaning Equipment
Our automatic washers allow for an incredibly customised dry cleaning service. We read every dry clean care label on every garment and depending on the instructions, adjust the water temperature, drum rotations and detergent concentration. The result? Clothes that don't reek of chemicals, rejuvenated fabric and colors that never fade.
Reusable Dry Cleaning Bags
We provide biodegradable bags with your first order that can be reused time and time again. This goes a long way in reducing wastage. We make sure to sanitise your dry cleaning bag after every use to avoid your newly cleaned clothes being spoiled by previous bacteria and dirt.
How it works
We collect, clean and deliver your clothes within 24-48 hrs.
1. Schedule a wash
Schedule an order before 3pm for same day pick up via the 1 Stop Wash web app. We pick up & deliver everyday with convenient time slots that suit your schedule.
2. Meet your driver
We collect your clothes from your doorstep. Our team will list your order and price it accordingly and we can provide you with your very own reusable laundry bag.
3. Fresh clothes
We bring your clothes/trainers back freshly cleaned within 24-48 hrs. Let us help you achieve Less Laundry, More Life!
Why you should choose 1 Stop Wash for all your dry cleaning needs
Expert Attention To Detail
We'll make sure your garments are treated with expert attention to detail. We have been offering premium dry cleaning services for the past 10 years, so we do know a thing or two. We're a part of the Guild of Launderers and Dry Cleaners, and that's because we follow a strict code of quality, hygiene and efficiency in all our processes, especially dry cleaning.
Doorstep Pickup and Delivery
Once you book a slot online, our driver will get in touch with you. From there, it's just a matter of arriving at your doorstep, picking up your order and heading straight back to our HQ for a premium dry cleaning service.
Sustainable Dry Cleaning Service
We are one of the leaders in the dry cleaning business when it comes to reducing plastic usage. Our detergents and cleaning agents are all biodegradable. We also teamed up with Ecotricity, who are the United Kingdom's largest provider of green energy.
Convenient Online Booking Tool
To book any service, schedule a slot online. Pick a time and day for pick up,  and let us do the rest. We'll assign an expert to make sure all your needs are taken care of. P.S. - We work on Sundays, too!
Proud London Local
We set up shop in 2011 in central London. We're a proud London based family business that prides itself on quality and attention to detail. 1 Stop Wash is in Islington but we also provide our well renowned dry cleaning services in the surrounding areas such as Angel, Camden & the City Of London. We also support many local businesses in London.
A Trusted Laundry and Dry Cleaning Company
Read what our customers say about 1 Stop Wash
Pick Up Dry Cleaning Service FAQ
How do I know whether my item should be dry cleaned or laundered?
Each garment comes with a care label from the manufacturer. This will give us instructions on how best to treat the garment in question. If you're still unsure, leave it to us. We will assess the content of your garments and decide what cleaning process is best using our extensive experience in laundry and dry cleaning.
Why should I opt for wet cleaning instead of dry cleaning?
Wet cleaning is much more eco-friendly compared to traditional dry cleaning. It uses 30% less water and 50% less electricity during the cleaning process, and since it's much milder on the clothes, the end result is a completely rejuvenated wardrobe for you and your family.
What if my garment is Perc based dry clean only?
98% of all garments can be wet cleaned which shows this revolutionary cleaning methods versatility. However there is a very small minority of garments (2%) that can only be dry cleaned the old fashioned way via the use of Perc – for this, we turn to our partner cleaners who have this machinery in smaller sizes. We will always inform and get approval from our customers when this happens as we value transparency and integrity in all of our processes.
Where are my items being taken to and cleaned?
At our very own in-house cleaning HQ in Kings Cross. We don't outsource our cleaning like other online laundry & dry cleaning companies and this allows us to optimize our processes and gives us the flexibility to offer an eco dry cleaning experience at scale.
Are you insured against damage?
We have 1000s of happy customers but sometimes things can go wrong. We have the right business insurance in place which insures up to 10 times the value of the item in question. Damages very rarely occur unless there has been a mistake made with the care label by the manufacturer.
What do I do before my first dry cleaning pick up?
Simply put your clothes to be dry cleaned in a separate bag. If you are using more than one service e.g ironing only or washing and ironing, then split the garments into differing bags depending on the service you'd like. Then just have your phone nearby and wait for our driver's notification to let you know of his arrival for pick up.
What if I have any special requirements or instructions?
You can add special notes to your order before pick up, alternatively, you can notify our driver of this and he will add it to the notes of your order.
Do you dry clean my clothes separately?
Yes, of course. There are many reasons why. Each garment is unique and comes with a care label with washing and dry-cleaning instructions. Plus, our machines can be customised according to the fabric and type of clothing, so each item in your order receives the best cleaning possible.
Is there a minimum order size for dry cleaning?
Yes, there is a minimum order for collection & delivery which is £25. If your pick up and drop off order costs less then this then we will round your order up to £25.
What if I lose my dry cleaning ticket? 
Losing your dry cleaning ticket can be a real PITA for both you and the cleaner. Its the only real way a dry cleaner knows the item belongs to you and so its important you keep it safe. Here at 1 Stop Wash, tickets are a thing of the past. We offer a totally digital service, every order is given a unique order ID and we will email or text you to let you know when your order reaches each step in our cleaning process, from pick up to cleaning to delivery. Its vital you keep your accounts contact details up to date so that we can keep you informed an you can do this via our easy to use app.
Do I have to provide my own bag for my dry cleaning order?
Every new customer will get a large and reusable bag to load their items into, you can keep this bag free of charge and do what you want with it but hopefully you use it for endless dry cleaning orders with 1 Stop Wash!
If I have a wash and fold order too, should I separate the clothes into seperate bags?
To make the first pick up as quick as possible, we recommend that you separate out any wash & fold, ironed laundry and dry cleaning before pick up, we will itemise everything into a digital receipt for you once the clothes enter our cleaning HQ.