As the world moves more hygienic with the spread of viruses and infections, one highly used household item that cannot be forgotten about are rugs. If you think just regularly hoovering your rug is enough to stay germ free the you're in for a nasty ride (literally!)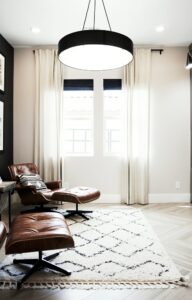 It is generally accepted that rugs should be deep cleaned every 12 or so months, however, this is not always the case.
Every rug is different in terms of material, size and how often it is stepped onto. A rug that is in your hallway as you walk into your front door would have to be cleaned more often than a Persian rug that is sat in your bedroom, however, the delicacy required for the clean for the Persian rug would be higher than the front door one.
In this article, we will answer the following:
Why must you clean your rugs often?
How does rug cleaning work?
How much does Rug Cleaning cost?
How long does rug cleaning take?
Why must you clean your rugs?
People tend to only clean household items when they see stains, but just because an item may appear clean visually, it does not mean it is free of germs and bacteria. For the case of a rug, the build-up of germs, bacteria, dust etc. can amount to a lot in a very short space of time, here is a list of different things that can live in your rug:
Food
Dust
Dirt
Pollen
Skin cells
Hair cells
Smoke
Pet littering
This build-up can make your rug heavier – if it is not cleaned often, the weight of the dirt can exceed the weight of the rug by up to 4 times.
What can this lead to? Well, your rug will look darker visually over time and will let off a very pungent smell that gets worse as time goes by. Furthermore, more dangerous organic matter can grow on your rug overtime which can cause sickness to you and your family, examples of this include:
Mould:
This comes about from humid areas so you're more likely to see this on rugs that are closer to or in areas of humidity within your home such as bathrooms or other damp areas.
Bacteria:
This is an obvious one but not many people are not aware of the amount of different bacteria that can grow in your rug, this can include salmonella (from pet feces) & campylobacter which in particular, just like mould, thrives off a damp environment.
For the reasons above, regularly vacuuming & getting your rugs deep cleaned is vital to fight off any build of bacteria and germs in your home.
You may be thinking about how best to clean your rug, well we would recommend not to clean it yourselves and to provide your rug to a professional rug cleaner or your local dry cleaner who should have years of expertise to professionally clean your rugs.
Be careful, however, make sure you check the reviews of the company as some rugs can be worth a lot of money and require highly professional operators to clean your rug properly without damaging it.
How does rug cleaning work at 1 Stop Wash?
Our process begins with a close inspection of the rug, we look in detail at the material of it as well as any flaws, how fast the colour runs in the dyes, an inspection of the delicacy of the tessals and lastly what types of stains it holds.
This initial process allows us to decide what process we use to clean the rugs. Here are the different materials of rugs:
Wool
Cotton
Jute/Bamboo
Polypropylene rug
Silk
Microfibre/polyester
Faux Fur
Shag
Persian
Viscose
Sheepskin
Horse
For most standard cotton or wool rugs, we can use our unique eco dry cleaning process to wash the rugs, our super big machine allows enough space for the rug to be thoroughly cleaned using eco and health friendly detergents.
For the more delicate rugs, we prefer to hand clean them where the rug is soaked in water before having its stains and dirt brushed out using special techniques.
After both processes, the rug must be air-dried before being finally brushed to make sure your rug has that final perfect look to it.
How much does rug cleaning cost?
Rugs are often priced per square meter and can cost roughly between £20-40 per square meter although prices vary between companies. The cost is varied for rug cleaning as it largely depends on the type of rug you require to clean, a regular doorstep rug won't be as expensive to clean compared to a prestigious Persian rug.
Most companies including 1 Stop Wash will tell the customer that quotations are bespoke, therefore the cleaner must see the rug for an accurate quote – this is due to the initial process of checking for stains, defects, material etc.
How long does rug cleaning take?
Rug cleaning takes detailed work that needs to be professionally done. For that reason, it can take up to a week to properly clean a rug although again it largely depends on the condition and material of the rug.
Some rugs can be simple to clean with 72 hr turnaround whereas more delicate rugs can take up to 7 days to clean.
Conclusion
We hope this article has been helpful in answering why it is so important to get your rugs cleaned professionally and regularly and how the process works.
Although rug cleaning can be expensive and inconvenient in terms of how long it could take, the importance of deep cleaning the rug so it is germ-free cannot be emphasized enough, especially with the spread of more germs & viruses such as COVID 19.
Interested in getting your own rug cleaned? Book a pick up of your rugs today for a deep clean, if you'd like an accurate quote, send us pictures and the size of the rug to our email; hello@1stopwash.com, alternatively call us on 0207 837 4997 for more information.